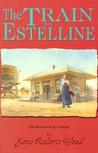 The Train to Estelline by Jane Roberts Wood
My rating: 3 of 5 stars
The Train to Estelline is a historical fiction piece set in West Texas in the early 1900s from the point of view of a young woman setting out on her first adult adventures. Within the first few pages I had decided I didn't like this book: the main character was already gushing that she had just (today) met the man she was destined to marry and the writing style– jumping between letters and diary entries (all of which were short in length and description)– was too much for me. I felt like I was reading a worn out dirty rag, but I continued on and was pleasantly surprised in the end. I grew to enjoy all the characters, who all had character flaws, but also lovable traits. I still don't like the writing style. You can't do both letters (to multiple recipients) and diary entries. That just doesn't work for me. And I still think that the writing overall isn't descriptive enough and requires the reader to infer a lot of things. I think I have a good imagination, but I need a decent plot to imagine around! All in all, I may consider looking up the rest of the series. I want to know what happens next with some of the characters.